My exercise regime has been seriously amped up in the last week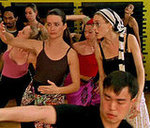 Unfortunately I look less than glam after the winter slump.
I just can't choose which is my favourite
There is one for every day of the exercise week
Check out all the styled outfits
here
The best bit
- they are all affordable...
and gorgeous!
New workout clothes make you feel soooo much more inspired.
I am now on my way to looking like this
Or at least well dressed in a sweat!