Tracey Beasley is a tough, hardworking, community-minded, family-loving, country Mum of three, with a real fight on her hands.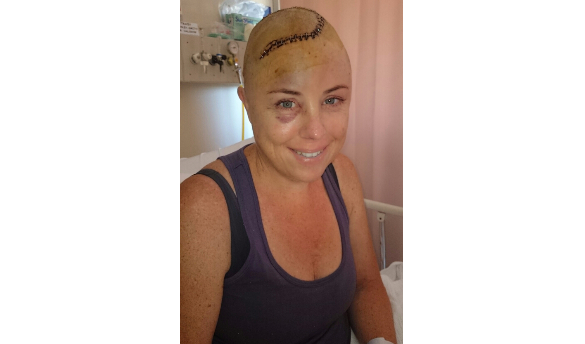 Tracey is bravely and ferociously fighting the battle of her life, driven by the ultimate goal - seeing her gorgeous children grow up!
Tracey was diagnosed with Stage 4 Melanoma after feeling a little odd late 2014. After gruelling surgery, Doctors found a large brain tumour which was unfortunately confirmed as a secondary melanoma - secondary to a melanoma that was removed a decade before.
Tracey has been involved with melanoma research through the Westmead Institute for Cancer Research and the University of Sydney due to a unique "melanoma gene mutation" being identified in her family. Her family was selected to take part in the Australian Melanoma Family Study due to the number of melanomas Tracey had experienced. This has helped assist further research into identifying and learning more about a "melanoma gene"
through comparisons in DNA.
Tracey tested positive to the gene mutation which puts her at a higher risk of developing melanoma. Her three children have a 50% chance of carrying the gene also. While most melanomas result from a combination of environmental and genetic factors, about 5 to 10% of melanoma cases present in familial clusters putting them at even higher risk, unfortunately Tracey has it all.
Following her last round of surgery, Tracey endured entire brain radiation, only to be told that the cancer may return sooner rather than later. And return it has, with a vengeance.
With another tumour on the brain and another on the lung, and having been tested BRAF Negative, Tracey was advised that treatment would be difficult. Difficult, but not impossible.
Tackling this devastating news with her constant smile and positive outlook, Tracey is now taking a 600km round trip from home to endure 4 rounds of intense immunotherapy.
Following this treatment, Tracey is eligible for her best chance of meeting her ultimate goal with the immunotherapy medication Keytruda. A medication that fights advanced inoperable Melanoma and tumours.
Keytruda comes at a cost of $15,000 - per month!
Having always been part of the workforce, but no longer able to work, Tracey spends her time reading with kids at school, doing canteen when possible and helping educate and create awareness for melanoma and cancer in general. She is implementing wider brimmed hats in local schools where possible and trying to get local councils and community groups to help provide more shade in playgrounds and parks where there is very little or none at all.
Through her own life experiences, Tracey is committed to highlighting the importance of a positive self-image. Tracey is very concerned about the link between skin cancer and melanoma and extensive sun exposure and the use of tanning beds.
She is extremely passionate about spreading the word and helping people to "Love the skin they're in". Focusing on the positives she believes this is her new purpose and direction and that it has all happened for a reason so she plans to make it count…whether that's for many years to come or just while she can.
TEAM TRACEY want to help this amazing woman. They want to at least alleviate the financial strain Tracey and her children have been under since her diagnosis late last year.
They want to ensure that Keytruda is available to help her fight.
They want to know that she can afford the constant travel from her country home to Sydney (1100km round trip) and Canberra (600km round trip), specialist appointments, scans and tests.
They are asking you to come on board and show your support for Tracey, her family and her future.
With support already flowing from Tracey's local community, who know her bravery and determination first hand, weTeam Tracey want to spread the word and do everything they can to help her in her fight.
Every donation gets Tracey Beasley closer to her goal of a happy future with her children.
- TRACEY - WE HAVE YOUR BACK -
- LOVE THE SKIN YOUR IN -
Follow Tracey's progress on Facebook page "Team Tracey - We've Got Your Back" .