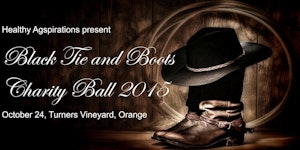 This event gives farmers, health professionals and supporters the opportunity to network, raise rural health awareness and bid in our auction, while raising money for important causes. Join us amongst the vineyards in Orange, enjoy the region's local produce, support rural health services and go home with an amazing prize all in the name of charity.
If you are a business or supporter who would like to donate a prize for the charity auction, or would like further information, please contact Camille on 02 9478 1070, or Alice on 0427 231 056.
You may donate to our charities through our everyday hero account here.